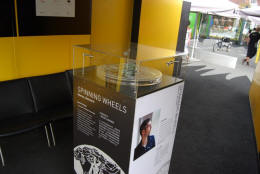 Drejefadet er designet af de to fynske kunstnere Sonia Brandes og Jacob Skov specielt til Odenses udstilling på EXPO 2010.
Se også: Two to go. Serveringsfad med H.C. Andersen motiver
Jacob Skov
Jacob Skov, born in 1971 is one of Denmarks independent ceramists. He designs and devolops funktional products for the home- often with a twist to design and in a Scandinavian design style. He finds his inspiration from everyday items, large and small. For mere details of Jacob Skov's many productions see www.jacobskov.dk
Sonia Brandes
Sonia Brandes, born in 1946, has been working and exhibiting as a paper-cutting artist since 1972. This ancient Chinese tradition was also pursued by Odense's famous son Hans Christian Andersen. Sonia finds her inspiration and motivation in the pastoral surroundings near her home. Her paper-cuttings are not only exhibited in Denmark; museums in France and Japan have also exhibited her works over the years. www.soniabrandes.dk
Foto: Lars Bjørnsten Odense September 2010. Kilde til tekst er ophængte plakater på EXPO 2010.