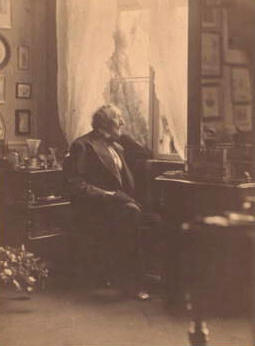 He struck chords that reverberated in every human breast.
Hans Christian Andersen died on August 4, 1875, and one of the strangest careers in the history of Danish literature came to an end, rising from unknown penury to world fame as a writer.

By Bo Grønbech


H.C. Andersen in his Copenhagen home Nyhavn, 1874
Hans Christian Andersen died on August 4, 1875, and one of the strangest careers in the history of Danish literature came to an end. How the shoemaker's son fought his way from unknown penury to world fame as a writer is known to everyone who has read his great memoirs, The Fairy Tale of My Life, of 1855. But how the last twenty years of his life passed off is less well known. He did not tell very much about this himself, nor was there much to tell.
The way to the stars is more interesting than life among them, and when Andersen wrote The Fairy Tale of My Life his career was over.
He had satisfied the great ambitions he had cherished from childhood; he had succeeded in creating literature that made his name internationally known, and he had got to the top in society. The goal had been reached. There was no more to fight for, no aim to pursue, nor anything exciting or picturesque to tell.

That does not, however, mean that he rested on his laurels or that his life from then on became uneventful. His artistic ability was undiminished. In the 1850s and 1860s he produced works that for poetry were not much inferior to the masterpieces of the 1840s. Fairy tales like 'The Story of the Year', 'Heartbreak', 'The Beetle', the great Swiss tale 'The Ice Maiden' and the masterly short novel Lucky Peter came out in this period. Both at home and abroad he continued to receive evidence of the recognition that for him was the staff of life. The culmination came when he was made an honorary citizen of his native town of Odense in 1867. His reply to the local council's letter shows how deeply moved he was by this honour, and with what modest dignity he regarded his life's success.He wrote:
" I received the honoured council's letter last evening and hasten to convey my heartfelt thanks. Through you, sirs, my native city vouchsafes me a recognition, an honour, greater than I had ever dreamt of. 'It was forty-eight years ago this year that I left my native town a poor boy, and now, rich in happy memories, I am being admitted to it like a dear child to his fathers' house. You will understand my feelings; I am not exalted in vanity, but in gratitude to God for the heavy hours of trial and the many days of blessing He granted me. Accept my whole hearted thanks.'
I look forward to gathering on the appointed day, the sixth of December, if God vouchsafes me health, with my noble friends in the dear native town.
Yours gratefully and respectfully,
H.C. Andersen.
Added to the pleasure of recognition were his many travelling experiences. He went abroad nearly every year, even going to Spain and Portugal, visited then by very few Danes.

The shadows grew longer

Of course there were no more sensational, significant events in his life, but on the other hand he was able to lead an outwardly rather agreeable life. In a modest way, he was financially independent and could arrange things as they suited him. He had fixed addresses in a couple of rented rooms or at a hotel in Copenhagen, where he lived for half the year. There he would visit his many friends and attend the theatre. When he felt like a change, he would go into the country and spend time at the manor houses where he had friends, and where he was always welcome. Abroad, too, he was welcomed as an honoured and admired guest everywhere. It was a life which quite suited his migratory nature.
And yet this life free from ties and obligations had its shadows, and they grew longer and darker as time passed. He had no family relations and had never dared to commit himself in marriage, and inevitably he came more and more to feel the want of a home. He had been able to find distraction from his solitude in earlier years in his extensive writing and his restless travelling. As he grew older, this solitude became a grievous burden to him. There was, too, the state of his health. He had never been robust, although with his tall, strongly built figure it might seem so. He was born with a highly sensitive nervous system, which caused him all sorts of afflictions all his life: faintness, dizziness, depressions and hyper-sensitiveness. He nearly always felt ill. After 1860, when his energies began to fail, the nervous symptoms grew worse. He was unable to stand such great exertions as before. He became a more and more helpless victim of his impressions, even the most trifling, and could not control his violent reactions.
For these reasons, it become yearly more difficult for him to live the bohemian life he was used to, and it was fortunate for him that in 1862, in the merchant family of Melchior in Copenhagen, he found friends who understood his difficult position and opened their home to him. He was deeply grateful for their hospitality, and he wanted it more and more, especially after 1868 when his strength began to fail him in earnest. It was now more than a matter of nerves; recurrent feverish attacks, indisposition and fainting fits were alarming signs of serious illness. He was able to travel abroad for another couple of years, but in 1873 he wrote home from Switzerland with melancholy self-irony: 'I sometimes have a feeling in my midriff as if I had been broken in two and riveted together again, but not well.' On the way home he fainted twice during the railway journey.

Tributes and mourning

That was his last journey abroad. He had cancer of the liver, and it was plain to everyone what lay ahead. But death was slow to come, and he lived to experience his seventieth birthday on April 2, 1875. Perhaps it was the expectation of that which kept him going, and he was not disappointed. The day proved an orgy of tributes from far and near: flowers and telegrams from places at home and abroad, deputations from Odense and Copenhagen, a special audience of the King and Queen, a gala performance at the Royal Theatre. He was feted privately with a big dinner party at the Melchior's.
The day gave him great pleasure but exhausted him terribly. He was failing. Two months later he was so weak that the Melchiors moved him to their villa on the outskirts of Copenhagen. His condition was hopeless. Death occurred on August 4. The preceding days he was happy and easy in his mind and free from pain, and finally he slipped quietly and imperceptibly into unconsciousness.
The funeral took place from Copenhagen Cathedral on August 11, with avast attendance and official honours. It reflected his position in life like a mirror. No relatives followed him, for he had none. Nearest the coffin, however, sat the King and the Crown Prince and his personal friends, together with a number of foreign ambassadors, Danish ministers and deputations from the city councils of Odense and Copenhagen. In the choir stood the students with their banners; along the side walls representatives of many societies. Friends bore the coffin from the church, the students following immediately after. No family mourned for him. It was Denmark that mourned. In the harbour and its approaches every ship's flag was at half-mast.
The obituaries in the Copenhagen press contained only respect and praise for the man and his works, as was reasonable. Berlingske Tidende carried a detailed assessment of his achievement as a writer, emphasizing his rich and gentle humour, his imagination and the keen eye for the small and characteristic which found so natural expression in the fairy tales. 'He never lapsed into any dry allegory, for his fairy tales did not come by way of abstraction; he saw the characteristic in concrete things and gave it form in accordance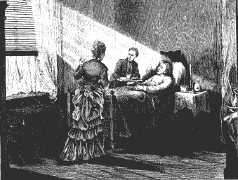 Andersen on his death bed at "Rolighed",
the country house of the Melchior family
in North Zealand.




with his sovereign creative will.' In this genre he was a great psychologist. 'His words, chosen with great precision, always hit the nail on the head.' Another newspaper wrote that Andersen had known how 'to strike chords that reverberated in every human breast.'
These words are valid to this day. Hans Christian Andersen's writing is still alive. The centenary of his death reminds us what we owe to him.

The author:
Bo Grønbech, born 1907. Since 1934, lecturer in Copenhagen. 1945 dr phil. 1948-49 travelling lecturer for the Swedish society Foreningen Norden. Since 1946, lecturing in Denmark, Sweden and Germany and, in 1962, in the United States of America. Study visits to France, Italy, Sicily, Greece and Constantinople. Member of the Board of the Hans Christian Andersen Society in Copenhagen since 1946, Chairman since 1961. Awarded a grant by the Hans Christian Andersen Foundation in 1965.
His extensive production includes: H. C. Andersens Eventyrverden (The Wonderland of Hans Christian Andersen) 1945; H. C. Andersen, levnedsløb, digtning, personlighed (Hans Christian Andersen, Life, Poetry, Personality) 1971.

Foto: Lars Bjørnsten Odense