Rebet - The Rope i Solvang U.S. A.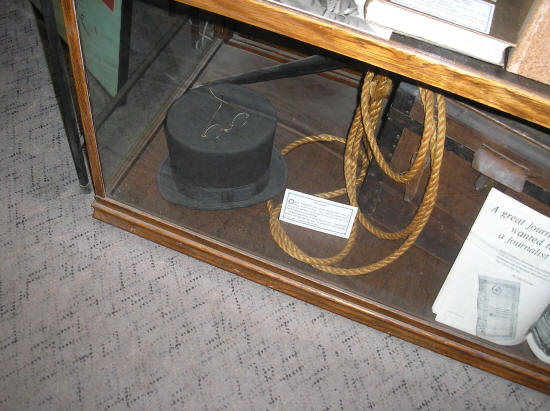 Montre med bl.a. rebet og en høj hat. Set på Bogloftet - The Book Loft i H.C. Andersens Museum Solvang i U.S. A. Foto: Helga George
The Rope
One of Andersen's many travel phobias was a fear of being cought in a fire.That is why he always took a rope on his journeys - so in case of fire he could use it to lower himself out of window. He was also afraid of being burned alive. Sometimes before retiring for the night he would put a notice next to his bed. "I am not really dead"
A great journalist who wanted to be a journalist

Rebet
En af Andersens mange rejser fobier var en frygt for at blive fanget i en fire.That er hvorfor han altid tog et reb på sine rejser - så i tilfælde af brand, han kunne bruge det til at sænke sig ud af vinduet. Han var også bange for at blive brændt levende. Nogle gange før går i seng, han ville sætte en meddelelse ved siden af ​​hans seng. "Jeg er ikke rigtig død".
Se H.C. Andersens originale hat og reb på H.C. Andersen Museet i Odense: