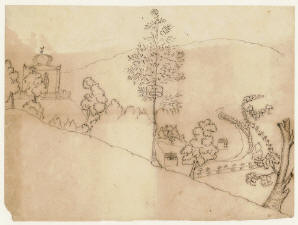 Godfather could tell stories, cut out pictures and draw.
By Jan Zibrandtsen
Billedkilde: Odense Bys Museer
" Andersen's Tree" outside the garden of Major Serre in Maxen near Dresden bears a plaque with the inscription "Dem diinischen Dichter", The tree was a young larch which the poet had planted in a rocky crevice, During his frequent visits to the Serre family the poet, who enjoyed the sympathy and admiration particularly of Mme Serre, eagerly watched the growth of his tree, Andersen's drawing, in the artistic sense one of his finest, was undoubtedly made on August 12, 1851, when he wrote in his diary, ", ..I went out and sketched my tree with the mosque and the fallen birch." To the left, the mosque-like summerhouse in the Serre garden; to the right, the birch that had been struck by lighting. With pencil and steel pen Andersen has in a finely varied line technique depicted his tree as part of the flowing rhythm of the landscape.

Hans Christian Andersen began his tale 'Godfather's Picture Book', published in 1868: 'Godfather could tell stories; so many and such long ones. He could cut out pictures and he could draw pictures; and when it was near to Christmas, he would take out an exercise book with clean white pages, and on these he would paste up pictures taken from books and newspapers, and, if he had not enough for what he wanted to tell, he would draw them himself. I got several such pictures when I was little. ..'
Many people knew then that Godfather was Andersen himself. The children of families he visited were delighted with his paper cuts, which he used to make with his big scissors on the spot, and with the stories that he told from these wonderful paper fantasies. His youth had coincided with a period when the craze for silhouettes was still common. But his interest in and talent for making paper cuts he retained undiminished all his life. Andersen's decorative imagination apparently springs straight out of old folk art, but there is also a streak of renewal in his artistry; a vitality, a glimpse of magic, which feels quite modern. His figures and patterns come miraculously to life, sustained not infrequently by an imagination, both grotesque and poetic, of exceptional range. In general, however, it is the warm sympathy, often found in his fairy tales and stories, that comes out in his silhouettes, his interest in the theatre in particular being reflected in this teeming gallery of figures.

Shadow pictures of a journey
But now for the author's drawings! A rich collection of them has been preserved in H. C. Andersens Hus at Odense. It was chiefly in the early years that Andersen drew avidly, and for the most part on his journeys in the period 1831 1841 which resulted in works such as Shadow Pictures of a Journey to the Harz Mountains, etc, in the Summer af 1831 (1831), The Improvisatore (1835) and A Poet's Bazaar (1842). His enthusiasm for the foreign parts which he visited, and not least for the beauty of Italy , seem also to have inspired him to creativity as agraphic artist. To Andersen's art as a writer, the immediate sensation and fresh observation are basic. His small drawings, executed direct from the subject with a quill or reed pen, fixes his experience like a vivid manuscript. They would later support his vision as a writer. We see from his diaries, letters, travel descriptions and novels, as indeed from many of the fairy tales, that it was important to him to recollect things seen. Everywhere we feel the closeness in his relationship with nature. When he describes a landscape that has impressed him one not infrequently feels that he experiences nature with all his senses at once, almost as if through a short-circuiting of intense emotional and poetic experience. Yet it is clear that the lucidity of his writing depends predominantly on his matchlessly clear visual experience of things.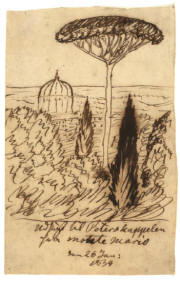 Nature and art.
View from Monte Mario of the dome of , January 26, 1834
"Udsigt til Peterskuppelen fra Monte Mario den 26 Jan. 1834"

Peterskirken, Roma, Italy


It is worth noting what Andersen says in The Fairy Tale of My Life of his artistic development during the first long journey to the south in 1833-1834:
'My dwelling here on the scenery of Italy as I am relating a life history will perhaps be held against me; indeed, it may be feared of many later journeys, with justification, that they may degenerate into description, though in the following period it will be seen that it was the people I came into contact with that made the deepest impression; however, on this, my first visit to Italy , it was solely nature and art that were paramount, the real experience. ..'
As early as in the diary of the journey in the Harz we see how the experience of mountain scenery and the paintings he saw in the Berlin museum gripped him alternately. He notes a number of names of old masters. And in leafing through at Odense the two booklets of drawings he made in the early 1830s to amuse a small boy, Otto Zinck, pencil sketches with fanciful, dreamlike figurative scenes in a casual but often expressive form, one understands why, in his travel diary, he dwells especially on his reaction to the sombre demonic power of Hieronymus Bosch's Doomsday subject in Berlin. He sketched a few of the bizarre, gnomic figures from there. He was both repelled and attracted.
One of the innumerable testimonies to Andersen's intense sensibility in the experience of scenic space occurs in the diary under May 28,1831:
'Through the most romantic valleys, where the nightingales trilled in the woods, we came to Rosstrappe, one of the wildest regions I have seen; it was precipitous, and people walking down below were like dots. I cannot really visualize it now; but even on the spot, when I closed my eyes, I could not visualize it. The mind could not compass this depth, which imagination cannot create.'

Freedom and impulsiveness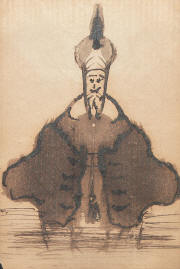 It is remarkable to see how Andersen's talent for drawing develops parallel with his descriptive literary skill. It is reflected in the fine drawings and vignettes with which he illustrated his diary of the Harz journey in 1831. He is here beginning to rise above the literary models which characterize his work in earlier years. And here, as agraphic artist, his pen gains the enchanting freedom and impulsiveness which are his distinguishing mark. One sees this in the brilliant vignette of the coach and horses at Liineburg, and especially in the vivid drawing from Rosstrappe where the few bold strokes of the pen are full of flowing life, giving the tension between the steep mountain masses and the view of the distant, sparsely grown landscape. It is done with masterly skill and few means.
Ink-spot fantasy resembling a turban-clad Oriental. Probably from the mature years of the poet.
The fact that Andersen's style has often been called graphic stems from his particular vision, from his feeling for nature, landscape, space and its lighting. He is undoubtedly one of the world writers who have best succeeded in imbuing and enriching his narrative style with qualities and characteristics otherwise known chiefly from painting. It goes without saying that the notes made wherever he went played no small part in his writing, especially as regards the nature-descriptive aspect of his work. And the critical sense and economy evident in the selection of particular themes recorded with the immediacy of first experience in the diaries, when he came to work them up for various purposes afterwards, as in The Improvisatore, A Poet's Bazaar and The Fairy Tale of My Life, are wholly admirable. Indeed, this side of his writing puts him fully on a level with the finest Romantic landscape painting.
Sculpture and architecture
Andersen's most personal drawings from his first major journey include his landscapes with spruce-trees, larches, rocks and waterfalls from Le Locle in the Jura, near the French frontier in Switzerland. They are purely graphic in conception, and can have a sensitive lineal rhythm very reminiscent of a modern artist like Klee. But Andersen's principal illustrative achievement, perhaps, consists in the many vivid sketches of I talian landscapes and townscapes. Several of these testify to his intimate study of sculpture and architecture he wanted to fix.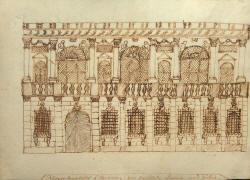 Andersen wrote on this drawing, "Palazzo Capuletti in Verona.
Here Romeo danced with ,uliet." According to the diary the drawing was made on April 24, 1834.


There is a surprising expressiveness in his distinct and very subtly differentiated drawing of the sculptured facade of the Palazzo Capuletti in Verona of April 24, 1834 ('where Romeo fell in love with Juliet', the diary says). A few days before, he had also drawn Canova's monument in the Frari Church in Venice.
There is exuberance in Andersen's drawing, and yet it is not so exuberant as the nature descriptions in his writing, where he reveals himself as a brilliant colourist. In his pen drawings from the south one can find a joie de vivre that is akin to genre pictures of Italian folk life from the Romantic period. He associated with numerous artists in Rome, and not only Danish, headed by Thorvaldsen. He was intensely interested in the Italian Pinelli's drawings of street life.
Our time, familiar with the styles of modern art, is better qualified than his contemporaries to appreciate his originality both as a silhouettist and as agraphic artist. He worked quite freely, without any particular schooling. He got far in experiencing landscape plastically and, as it were, poetically breathing. Regardless of whatever wrong proportioning or exaggerated emphasizing of details one might point out in his architectural rendering by academic criteria, there is always a fine organic cohesion in the rhythm of his drawings, and not infrequently a striking graphic nerve which can recall van Gogh. Andersen's pen, in this youthful period when he revelled in absorbing impressions of nature and art, becomes broad and powerful. Behind it all one senses his sincerity, his open enthusiastic mind.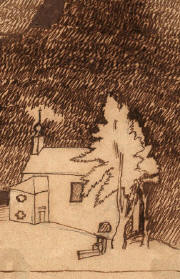 This little pen drawing of a sun-splashed church in a forest expresses great graphic power.
The subject may have been taken from Switzerland, southern Germany or Austria.
Kilde: Odense Bys Museer


The author: Jan Zibrandtsen, born 1907, is an art historian, critic and museum man. Since 1938 he has been director of the Amager Museum, which illustrates the Dutch cultural heritage on the island of Amager near Copenhagen, and from 1950 to 1968 he was also director of Skagens Kunst Museum. Chairman of the Visual Art Committee of the Danish State Art Foundation 1971-74. From 1956 art critic of the newspaper Berlingske Tidende. His published works include Moderne Dansk Maleri, 2nd ed. 1967 (with an English version), and a monograph on the graphic artist Christian Kongstad Petersen, 1971.
---
Godfather's Picture Book. By Hans Christian Andersen (1868)

Illustrations Godfather's Picture Book: